5 Ways Motorized Shades Add Value to Homes in Austin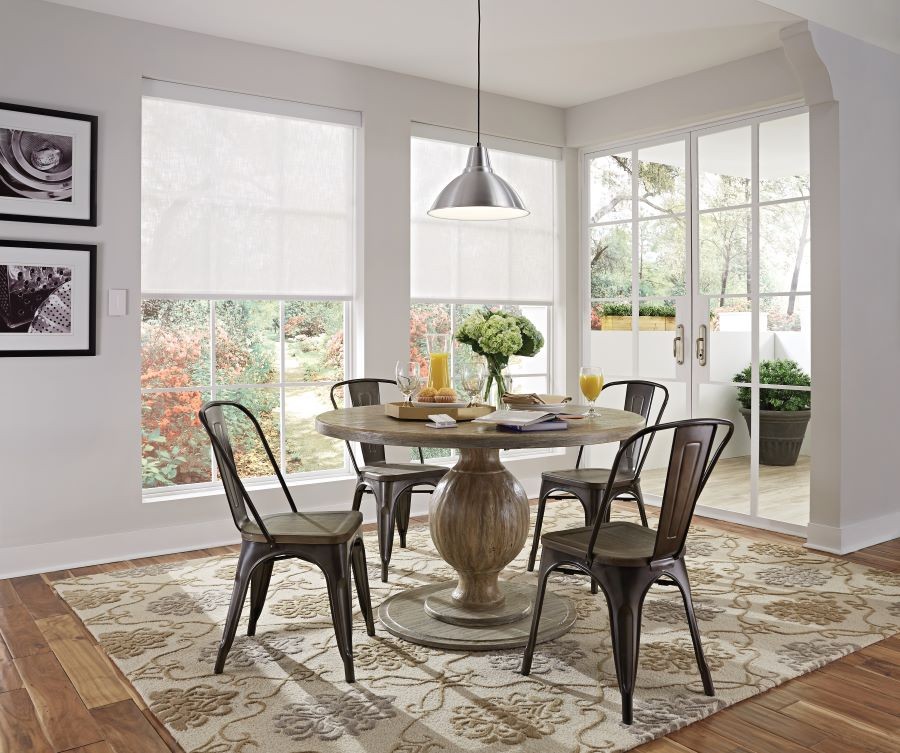 Explore the wellness, energy-saving, and home protection benefits of automated

shades
Motorized shades have significant value in residential homes beyond covering windows. They lower heating and cooling bills, improve home comfort, and add aesthetic appeal to a home's interiors, among other things. Motorized blinds and shades are also incredibly easy to manage and control with a smart device like a smartphone app, remote, or touchscreen tablet. Homeowners who want a hands-off experience can build custom schedules forraising and lowering shades throughout the day.
Homebuilders, architects, and interior designers can benefit from offering whole-home shading installations as part of the service contract for new builds, retrofits, and renovations. Homeowners will appreciate the convenience of not having to worry about arranging and paying for a second job or picking out and installing window coverings themselves.
If you're a homeowner or trade professional in Austin, TX, keep reading to learn five ways motorized window treatments add value to your home!
SEE ALSO: 2 Reasons Lutron Is a Great Choice for Motorized Window Treatments
1. Energy Savings
Motorized shades work hard to provide insulation when the heat is on and reduce solar heat gain when sunlight is beaming through the windows. These efforts reduce the strain on HVAC systems and result in accumulated energy savings. Insulated cellular shades are the most energy-efficient type of blind— Energy.gov reports that cellular shades can reduce solar heat gain by up to 80% during the hot seasons.
2. Wellness
Motorized window treatments are an amazing solution for letting natural light into homes. The press of a button on a smartphone or tablet adjust shades to precise levels that let in as much or as little light as desired. Motorized blinds and shades work well with dimmable, automated lighting systems to create the perfect blend of natural and artificial lighting in home interiors throughout the day.
The benefits of natural light have been well-researched and documented. Exposure to sunlight promotes more energy during the day and restful sleep at night. Sunlight exposure can also trigger the release of feel-good hormones that help regulate mood and well-being.
3. Home Protection
Exposure to sunlight can fade, discolor, warp, and otherwise damage furniture and upholstery, paintings, carpet, wood flooring, and other valuables inside homes. Motorized shades protect furnishings and delicate décor from the sun's harmful rays. One excellent choice for large, open rooms is energy-efficient solar shades that effectively absorb heat and reflect ultraviolet radiation while still allowing natural light to filter in.
4. Home Safety
Unlike manual shades, automated window treatments do not have cords that can quickly become a safety hazard to small children and pets. Instead, motorized blinds and shades are operated using the press of a button on a handheld remote, keypad, smartphone app, or tablet. Raising and lowering shades is simple and straightforward enough for anyone in the family to do without the risks of tripping over or becoming tangled in a cord.
5. Interior Design
Motorized shades have versatile options to meet multiple interior design styles. Window treatments come in myriad styles, colors, fabrics, and opacity levels that can be customized room-by-room. From wooden blinds to ripple fold draperies to sleek and modern roller shades, motorized blinds are up for the challenge of meeting specific aesthetic preferences.
If you're a homeowner, builder, architect, or interior designer interested in learning more about motorized shades, reach out to Multimedia Solutions, Inc. to discuss custom solutions. We proudly service homes in Austin and across Texas. Call or fill out a contact form to schedule a consultation with our experts.
Stay Informed
When you subscribe to the blog, we will send you an e-mail when there are new updates on the site so you wouldn't miss them.